Headline News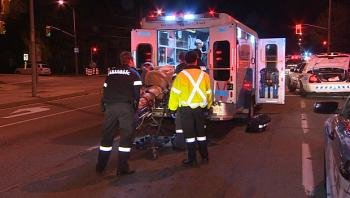 Posted on 15 May 2017
A triple shooting in the Don Mills area late Sunday night left three people with non-life threatening injuries. Police say at least two of the victims were in a vehicle when they were shot just after 11 p.m near the intersection of Don Mills Road ...
Posted on 13 May 2017
Toronto's Harbour has always been a recreational centre for countless tourists all over the world. However, there is a major issue that seems to have always been swept under the carpet whenever it crops up and that is the inability of the variou ...
Posted on 13 May 2017
The rise of Canada as a country to a level where it is now regarded as the land of freedom and opportunities, has been very steady. The political stability and booming economic activities within the country has helped immensely in placing Canada a ...
Posted on 13 May 2017
There is a new big shark in the Toronto waters: a federal infrastructure bank is now about to have its headquarters in Toronto. This is news that should bring relief to all residents of Toronto as a lot of people in high places had wanted it to be ...
Personal Finance
Personal Finance
Posted on 15 April 2017
While early retirement may be a pipe dream for most of us, every once in a while I hear from readers who have pulled it off and are living almost tax-free on dividend income alone. An example is Torontonian Phil McKinley, who retired in his ear...
Real Estate
Real Estate
Posted on 19 April 2017
(NC) As housing prices rise, homeowners may look to income from a rented suite to help carry a mortgage. This can be a great strategy if you follow the rules and are well-prepared for being a landlord. Here are five key things to know. 1. There are new rules. The Canadian ...
Environment & Economy
Environment & Economy
Posted on 17 April 2017
It's popping up in pastas, sausages, even dumplings in restaurants across town. Rabbit meat is being hyped as the new gourmet white meat of choice – and planet-friendly, too. Treehugger.com, the New Yorker, Vogue and homesteader magazines have&nb...