John Summers: How this Ottawa Lawyer Covers-Up Crimes Against The Disabled

I call on the The Honourable Jody Wilson-Raybould. Minister of Justice and Attorney General of Canada to investigate a sordid attack on not only the rights of woman rendered sick and disabled by the unethical conduct of one lawyer but the apparent coordinated nature of this attack apparently orchestrated by members of the University of Ottawa community.
Could a mafia-style organization operating from deep within the Faculty of Law at the University of Ottawa be seeking to profit from the manipulation of court cases at the Ottawa courthouse?
Could John Summers provide insight into what could be the greatest conspiracy in the modern history of court systems not only in Canada but of western democracy in general?
Could there ever be a more sick and twisted plot against any known conventions of human decency as the path presented by one Ottawa lawyer?
For many Canadians, hearing about a lawyer being unethical comes to no big surprise.
Indeed, in a CBC Doc Zone documentary a few years ago, lawyers were "outed" as having an unusal concentration of psychopaths.
But, then there's John Summers who represents the downtown Ottawa law firm of Bell Baker LLP that is situated right in front of the Ottawa courthouse.
Now, I have seen some treacherous and greedy lawyers in Ontario as someone who has been a member of the legal community.
But, here in Ontario, Mr. Summers could be in a category of his own concerning the apparent evils harboured within the legal community.
Have you wondered in all the experiences you have had with lawyers, just how low a lawyer can stoop on their single-minded focus for money with a lack of respect for human life?
I might have the answer for you now. You see, Mr. Summers and his paymaster had a problem.
Horace, his client was abusing his wife whose name is Dezrin Carby-Samuels; and Raymond, as any responsible son, wanted to protect his Mom from that abuse.
Raymond had sought to ask his Mom whether she wanted to temporarily move to a spare room in his south Kanata place to help expedite her medical recovery which was not being helped by Horace's worsening pattern of irrational anger and violence at the home Dezrin shares with Horace in Kanata.
However, Mr. Summers apparently didn't want Raymond interfering with the "right" of a man to abuse his woman who he owns as "chattel".
Mr. Summers' simple and effective "solution" to support Horace's apparent right to abuse and torture his woman as he sees fit was to manufacture a litany of lies designed to prevent Dezrin getting the support she desired from her son who had been her primary care giver in support of her recovery.
Mr. Summers' apparent elaborate and grotesque lies published in his court submissions all sought to maintain worsen a Hell on Earth for Dezrin.
John Summers' first of many lies that he submitted to court was that "Raymond suffered from mental illness".
This lie was designed to proselytize the idea to local police that Raymond constituted a "danger".
There was also the lie that "Raymond sought to hold Dezrin and Horace hostage". This was a lie also denied by Dezrin in writing when she could still write.
John Summers then spread the lie to Court that both Dezrin and Horace wanted Raymond evicted back in late April 2015.
John Summers then lied that Raymond was seeking to somehow "force" his Mother to see him.
Mr. Summers further asserted the "medical competence" of Dezrin after more than three years of abuse at her Kanata-Katimavik area home without one shred of medical evidence to support his assertion.
When Justice Callum Macloed asked for independent verification of Dezrin's well-being, Mr Summers first agreed, but within days renaged on the Agreement with another lie.
Mr. Summers then wrote to Raymond that he would at least obtain some medical information about Dezrin's condition. But that was over a year ago! Yep, you guessed it. Summers lied again.
Mr. Summers in 2017 became even more "creative" by alleging that Raymond got "banned" for calling Ottawa Ambulance Services in an incident which Dezrin credited to saving her life.
Raymond had approached Ottawa Ambulance Services and said there was no such ban.
Mr. Summers even went further by apparently presiding over the forgery of Horace's signature according to two handwriting experts in 2017.
Both handwriting experts assert that there is a 100% certainty that Horace's signature was subject to forgery.
When Summers apparently couldn't get Horace to endorse his lies the determined Summers put pressure on Ms Gorette Cleroux, his own secretary to fraudulently prepare an affidavit of more lies against Raymond concoted by Summers to perpetuate Dezrin not getting the vital assistance she wanted from her son against beat-downs by Horace linked to the abuse Dezrin had described.
However, all the lies of Mr Summers at the Ottawa courthouse would have gone nowhere if it was not for Mr. Summers apparently calling upon judges at the Ottawa Courthouse who all graduated from the same law school as Mr. Summers - University of Ottawa Faculty of Law.
Is it a coincidence that four judges at Ottawa courthouse who ignored all of Mr, Summers voluminous lies were all graduates of the same law school Mr. Summers attended and the Judges who had sought to support the affirmation of the rights of Dezrin and her son to see each other were from other law schools?
I don't believe in such "coincidences".
Back on 11 February 2016, Raymond had successfully obtained a court Order from Justice Patrick Smith who is affiliated with the Lakehead University community.
But since that time, the judges who have sought to roll back this ruling are all alumni from the very same Faculty of Law as Mr Summers. This clearly suggests a coordinated action through a common criminal association with one another.
Justice Callum Macloed is an alumnus of Queens University in Kingston, Ontario. This Justice had sought to support a path of social justice for both Dezrin and her son, and Justice Beaudoin who also similarly sought justice in this matter had graduated from the Faculty of Law at the University of Windsor.
The apparent low-life judges who coordinated the seizing of the case from a path of justice for Dezrin Carby-Samuels are Justice Pierre Roger, Senior Justice James McNamara, and Justice Sylvia Corthon who are alumni from the University of Ottawa Faculty of Law along with John E. Summers.

Justice Sylvia Corthorn along with these other judges pursued an apparent criminal conspiracy designed to both ignore evidence presented by Raymond in defence of his Mother and support for Raymond by the non-University of Ottawa judges. When Justice Beaudoin approved of a Motion to take Justice Sylvia Corthorn off the case, Corthon S simply ignored Beaudoin's approval of Raymond's motion, and expedited her Kangaroo Court ruling.

Dezrin was a retired Registered Nurse who sought to spread charity to whoever she met. But thanks to Mr. Summers, Dezrin can no longer walk, talk or write today under Mr, Summers' lies.
Horace lost no time after Mr. Summers' paymasters had Raymond illegally evicted in late April 2015. Without Raymond there to protect her, the abuse got worse.
Within weeks, Dezrin lost the ability to walk, write or talk
Horace's abuse was confirmed by Dezrin Carby-Samuels, his wife, in her very own handwriting - that is, when she could still write.
This abuse ranged from a beat down to depriving Dezrin for the speech therapy she needed for a medical condition to profound psychological torture.
Horace is so violent that one day on January 29, 2013, when Raymond had expressed concern in the kitchen to his father abuse seeing his Mom cry after another round of abuse, Horace decided to grab a kitchen knife to stab Raymond. In the process, Raymond who sought to grab his knife to prevent him from stabbing Raymond in the stomach, had one of his fingers alomst severed by the knife.
It's plainly apparent here that Mr. Summers has sought to orchestrate a false flag conspiracy against Dezrin and her son with the organized support of a University of Ottawa Faculty of Law "mafia" which have sought to preside over a Kangaroo Court at its worse, and I ask readers to send emails and letters to the Attorney General to demand an immediate investigation.
Dezrin has been physically weakened by Horace's abuse and John Summers' coordinated conspiracy in this matter.
After been beaten-up and abused for more than three years without the assistance of her son, Dezrin needs your support in her desire to cling to life in spite of the evils perpetuated by Mr. Summers et al. E-mail TOBJ.ca if you seek to donate to a Legal Fund created in support of Dezrin's liberation from a Hell that can been orchestrated and perpetuated by John Summers.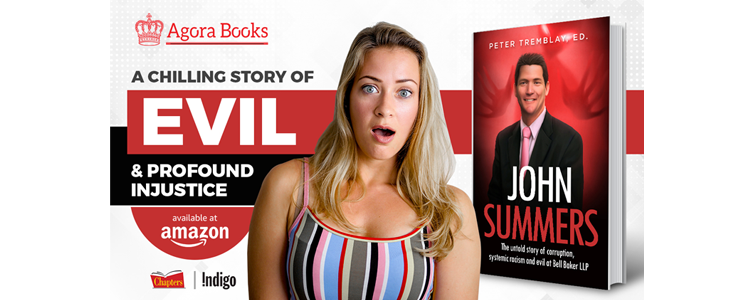 ---