John Summers: Ottawa Lawyer Presides Over Criminal Conspiracy With Three Judges

The evidence is quite overwhelming. John Summers who practices law at Bell Baker and three Superior Court Judges who are fellow graduates of the University of Ottawa have consorted in a heinous criminal conspiracy against a disabled woman whose name is Dezrin Carby-Samuels.
Dezrin had been a hard working mother who gave back to her community until her husband began to complaining about "aliens". That is when he bgean to beat her up. Did the aliens make him do it?
Dezrin complained to her son. He showed the police her hand written note that "Dad Abuses Me" and as a responsible son he brought the note to police, and ever since John Summers has been hard at work manufacturing lies upon lies.
These include such lies as ooh ooh that "Dezrin's son suffers from mental illness" or he got "blacklisted by Ottawa Ambulance Services.".
Then Mr. Summers got his own secretary Ms Cleroux to fabricate an affidavit to support a claim that Dezrin's son was being a "vexatious litigant" simply for seeking to protect his Mother from being beaten up by Mr. Summers' client.
However, Mr. Summers could not pull of his apparent "Crimes Against Dezrin's Humanity" if it wasn't for his judicial partners of crime who together have acted as a clandestine network designed to subvert the course of justice.
Every time a judge at the Superior Court in Ottawa sought to provide Dezrin and her son Raymond with the justice needed to spare Dezrin from further abuse, one of Mr. Summers' apparent criminal operatives would seize the case.
In the last criminal operation at the Superior Court in Ottawa, Justice Sylvia Corthorn seized the case and supported at the lies presented by Mr. Summers in a Kangaroo Court ruling against Dezrin son whom she declared to be "Vexatious".
Her outrageous ruling subverted the desire of Justice MacLoed who is not an alumnus of the University of Ottawa and who sought independent verification of Dezrin's well being.
These judges who like John Summers are all fellow alumni of the University of Ottawa are Justices S Corthorn, P. Roger, J S Macnamara. Thanks to them, a disabled women has not seen her son since 12 June 2015, in order to conceal the criminal activity or her husband which included abusing her to the point that she can no longer walk, write or talk.
You might ask, how could a lawyer like John Summers be still practicising law and could judges involved in such a cover-up be still presiding over courtrooms in Ottawa? The simple answer to such a question is corruption.Too long we as Canadians have allowed corrupt lawyers and judges alike to operate above the law that at least one group of them affiliated with the University of Ottawa has sought to act as secret manipulators of the justice system in support of their own agenda.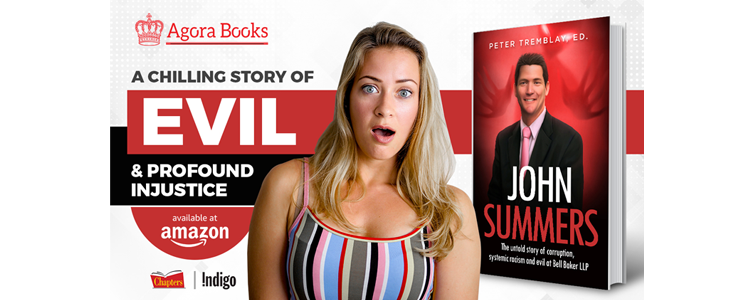 ---