Jason Mitschele
Guide Dog Helps Blind Federal Prosecutor Keep Order in the Court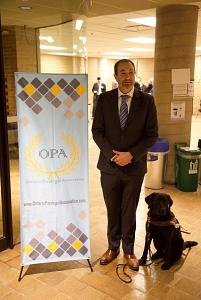 When Toronto Federal Prosecutor Jason Mitschele introduces himself to a jury, he invariably also introduces his guide dog Kailua as his "companion in life." Next, he warns the jurors that if they hear snoring during the proceedings, it is Kailua and not him.
In a profession not accustomed to seeing blind lawyers in the courtroom, let alone ones accompanied by guide dogs, Mitschele and Kailua stand out. From judges regularly greeting Kailua by name to accused defendants asking to pet her, Mitschele considers Kailua a secret weapon in the courtroom.
Mitschele was partnered with his first guide dog in 1993; Kailua is his fifth. Known as the dream team in Toronto courtrooms, Mitschele and Kailua were paired through Guide Dogs for the Blind International, a registered charity in Canada that helps provide Canadians such as Mitschele who are blind or visually impaired with highly qualified guide dogs free of charge from its sister organization, Guide Dogs for the Blind, headquartered in California.
"As a blind lawyer, I knew my journey would be filled with unique challenges, but I had no idea the attention that having a guide dog by my side every step of the way would attract," said Mitschele.
He can recount many memorable trials in Toronto with his guide dogs. His first jury trial was a very hotly contested drug case, and his guide dog at the time, Boris, a fetching yellow lab that everyone adored, began to throw up in front of the jury box when the opposing defence lawyer was cross-examining a witness. As a result of Boris' upset tummy, Mitschele kept him out of the courtroom for a few days until a deputy pulled him aside and said the jurors were concerned about Boris and wondered when he'd return. Later that day, Mitschele brought a healthy Boris back and parked him at the foot of the jury box. The jury convicted.
Mitschele has taken courtroom support one step further with Kailua. He wears dark suits to match her black coat, and he brags that she keeps him looking good as she stealthily whisks him through the halls of the courthouse.
But Mitschele relies on Kailua for much more than style and courtroom support.
"Kailua helps me survive and thrive on the streets and subways of Toronto, " said Mitschele. "She gets me to my office on time, and takes the stress out of my life because once she goes somewhere for the first time, she knows it."
It's not all business with Kailua and Mitschele. When guide dogs are not working and the harness comes off, they play, love and relax like any other dog. Mitschele points out that one of Kailua's greatest assets is that she thinks of herself as a lap dog and loves to cuddle.